The national Flight Attendant Medical Research Institute (FAMRI) supports the multi-project FAMRI Bland Lane Center of Excellence on Secondhand Smoke at UCSF.  FAMRI was created through a settlement of a class action lawsuit against tobacco companies on behalf of flight attendants who sustained health problems due to exposure to secondhand smoke in their job. 
The center is directed by Dr. Rita Redberg and co-directed by Dr. Neal Benowitz.  It consists of a flight attendant clinic, a core laboratory and a research project on children's biomarkers. Please see our publications page for recent publications from our investigators. 
FAMRI Goals
Provide evaluations and referrals for flight attendants to assess the effects of chronic secondhand smoke (SHS) exposure on flight attendant health, in particular assessing the correlation between severity of illness and SHS flight exposure during the pre-ban years.
Revise medical and tobacco exposure survey to include reproductive health history.
Assess flight attendant health longitudinally by contacting past subjects and collecting information on current health status.
Collect online survey data on all flight attendants worldwide on health status and SHS exposure to look for any associations, new and/or confirmatory.
Provide laboratory analysis of existing biomarkers, particularly low level SHS exposure marker
Develop and evaluate novel biomarkers of SHS exposure.
Assess SHS exposure and related adverse health outcomes in populations of vulnerable children, including newborns, children with asthma, and teens, with an emphasis on racial/ethnic minorities.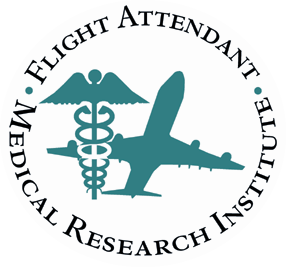 Study Participants Needed
The Center of Excellence on Second Hand Smoke at UCSF is conducting an online secondhand smoke registry for flight attendants. If you are a flight attendant, over the age of 40 with a minimum of 5 years flight experience, fill out this questionnaire on your health and (if any) secondhand smoke exposure history, so that we can learn more about the effects of secondhand smoke exposure on your health.
Inquiries for the center may be directed to the FAMRI Clinical Staff at [email protected] or (415) 412-0872.
Our current investigators and the general area of their research are as follows: 
Cardiovascular Research
Rita Redberg, MD, MSc
Eveline Stock, MD
Nisha Parikh, MD, MPH
Exposure Assessment Research
Neal L. Benowitz, MD
Peyton Jacob, PhD