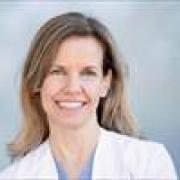 Carolyn Calfee, MD, MAS
Research focuses on the effects of active and passive smoking on susceptibility to acute lung injury, a major cause of respiratory failure in critically ill patients. In addition, she is interested in the use of biomarkers to measure cigarette smoke exposure.
Acute lung injury (ALI) is a common and frequently fatal cause of acute respiratory failure, with an estimated U.S. incidence of 190,600 cases/year and a mortality of 30-40%; no specific therapies beyond supportive measures have been demonstrated to be beneficial.  Despite advances in both basic and clinical research on ALI, we still do not understand why only some of the many critically ill patients at risk for ALI progress to develop the syndrome.  Our research is focused on both improving our understanding of the pathogenesis of ALI and on developing novel biomarker-based strategies for diagnostic and prognostic purposes, all with the ultimate goal of developing new preventative and therapeutic strategies for this devastating syndrome.