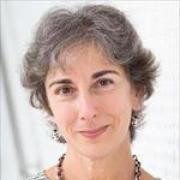 Jennifer Grandis, MD
Professor, Otolaryngology – Head and Neck Surgery
Associate Vice Chancellor, Clinical and Translational Science Institute
Dr. Jennifer R. Grandis received her medical degree from the University of Pittsburgh School of Medicine, Pennsylvania, and completed her internship from the same institution. Dr. Grandis completed both a residency and an Infectious Disease fellowship from the University of Pittsburgh School of Medicine, Pennsylvania. Prior to joining UCSF, Dr. Grandis was the UPMC Endowed Chair in Head and Neck Cancer Surgical Research and Distinguished Professor of Otolaryngology and Pharmacology and Chemical Biology at the University of Pittsburgh. She led the Head and Neck Cancer Program and was the Vice Chair for Research in the Department of Otolaryngology.
Dr. Grandis's research focuses on the signal transduction in head and neck squamous cell carcinoma (HNSCC) development and progression with the ultimate goal of targeting key pathways for therapeutic benefit. By taking key findings from the clinic and investigating mechanisms in a series of preclinical models, as well as developing novel therapeutic approaches in the laboratory and carrying out innovative clinical trials that employ these treatment strategies.
Dr. Grandis is an American Cancer Society Clinical Research Professor, and a member of the American Society for Clinical Investigation, the American Association of Physicians and the Institute of Medicine of the National Academies. She has published over 260 peer-reviewed articles. She has also contributed to more than 50 review articles and book chapters.
Research:
Dr. Grandis's is dedicated to increasing our understanding of the genetic and epigenetic alterations in the upper aerodigestive tract mucosa, which mediate head and neck squamous cell carcinoma (HNSCC) progression. The overall goal is to identify predictive biomarkers, which can serve to select patients for therapies, including molecular targeting approaches. Translational resources developed to support projects include a large collection of patient-derived xenografts (PDXs) and tissue microarrays of over 500 human HNSCCs linked to a professionally curated clinical and pathologic database that includes information on treatment and survival. To date, the have examined the role of the epidermal growth factor receptor (EGFR), it's ligands coordinate activation of STAT3 (signal transducer and activator of transcription) in head and neck carcinogenesis. Cumulative evidence from her laboratory suggests that TGF-?lpha/EGFR autocrine signaling leading to STAT3 activation is as early event in head and neck carcinogenesis. Strategies aimed at blocking the ligand, receptor or signaling protein demonstrated anti-tumor efficacy in preclinical models. Based on these promising results, they completed a Phase I clinical trial to investigate the toxicity and biologic effects of EGFR antisense gene therapy and a Phase II study was recently closed to accrual. They have developed STAT3 targeting strategies using a decoy oligonucleotide approach and early phase clinical testing demonstrated feasibility without toxicity. Ongoing studies are aimed at identifying the targetable genetic alterations in these cancers with the goal of designing precision medicine approaches. Emerging targets include activating mutations of the PI3K signaling pathway, primarily in HNSCC linked to HPV infection and mutation or promoter hypermethylation of selected PTPRs, which lead to STAT3 activation.
Specialty:
General Otolaryngology
Expertise:
Clinical and translational research
Professional Interests:
Head and neck cancer, signal transduction, precision medicine, experimental therapeutics, preclinical cancer models, receptor crosstalk
Education and Training:
• Medical School: University of Pittsburgh School of Medicine, Pittsburgh, PA
• Internship: University of Pittsburgh School of Medicine, Pittsburgh, PA
• Residency: University of Pittsburgh School of Medicine, Pittsburgh, PA
• Fellowship: University of Pittsburgh School of Medicine, Pittsburgh, PA – Infectious Disease