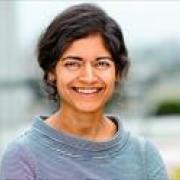 Maya Vijayaraghavan, MD, MAS
My research focuses on tobacco use in vulnerable populations, with a particular emphasis on interventions with the homeless population. My population-based research includes the analysis of cross-sectional and longitudinal data, including the analysis of national data, to examine the use of novel tobacco products and the efficacy of tobacco control policies on reducing tobacco use in low-income populations.
As PI of an exploratory/developmental grant from the Tobacco-Related Disease Research Program, I developed and pilot tested the feasibility of a capacity building intervention to improve homeless shelters' capacity to facilitate smoking cessation among homeless adults. My current research includes the epidemiological analysis of tobacco use and the development and evaluation of interventions to reduce tobacco use among vulnerable populations.