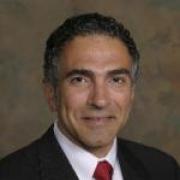 Mehrdad Arjomandi, MD
+1 415 221-4810 ext. 24393
Dr. Arjomandi is Professor of Medicine in the Division of Pulmonary, Critical Care, Allergy, and Sleep Medicine at UCSF with a joint appointment at San Francisco Veterans Affairs Medical Center. He is Director of the UCSF Human Exposure Laboratory at San Francisco General Hospital, Director of Environmental Medicine Clinic at San Francisco VA Medical Center, and an investigator at the UCSF Center for Tobacco Control Research and Education.
Dr. Arjomandi received his bachelor degree in molecular biology from University of California San Diego in 1991, and his MD degree from Stanford University School of Medicine in 1996. He completed his residency in Internal Medicine at UCLA Medical Center (1999) and his fellowship in Pulmonary and Critical Care Medicine at UCSF (2003) before obtaining an NIH/NHLBI Mentored Patient-oriented Career Development Award (K23) and joining the faculty at UCSF. He currently is the PI on several large investigator-initiated industry-funded grants. In addition, he is the PI on two foundation grants [the Flight Attendant Medical Research Institute (FAMRI), and the Health Effect Institute (HEI)].
Research Interests
The lung is constantly exposed to various environmental pollutants, allergens, and toxins, which interact with airways and alveoli and result in inflammation, injury, and disease. Exposure-related pulmonary diseases are increasingly recognized as a growing global problem.
My laboratory primary research interest has been centered on the paradigm that respiratory exposures to pollutants and toxicants contribute to development and progression of chronic lung disease, and may further yield systemic effects well beyond lungs. Under this paradigm, my research activities have focused on understanding the physiologic and immunologic mechanisms via which environmental exposures contribute to chronic lung disease and how knowledge of these mechanisms could be translated to ways to better define, prognosticate, and manage disease burden.
I have dedicated my efforts to (1) investigate the biology of airway immune cells using inhalational exposure to ozone in humans as a model of lung injury simulating exacerbation in chronic lung disease, and (2) characterize the cardiopulmonary abnormalities in a cohort of individuals with history of prolonged heavy exposure to secondhand tobacco smoke as a model of occult chronic obstructive lung disease.