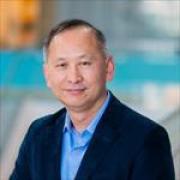 Tung Nguyen, MD
Dr. Nguyen is the Stephen J. McPhee, MD Endowed Chair in General Internal Medicine and Professor of Medicine at the University of California, San Francisco (UCSF). A general internist with a panel of diverse patients, Dr. Nguyen teaches medical students and residents about medicine, health disparities, and community-based participatory research (CBPR). He has conducted CBPR and intervention research with diverse populations including Chinese, Filipino, Hmong, Korean, and Vietnamese Americans on cancer control, tobacco control, hepatitis B and C screening, nutrition and physical activity, and end-of-life care.
Dr. Nguyen is the UCSF Associate Vice Chancellor for Research Inclusion, Diversity, Equity, and Anti-Racism (IDEA and also the Director of the UCSF CTSI Research Action Group for Equity (RAGE) Program, which aims to increase diversity among UCSF research participants.
At the UCSF Helen Diller Family Comprehensive Cancer Center, Dr. Nguyen is CoLeader of the Cancer Control Program (http://cancer.ucsf.edu/research/programs/cancer-control/) and Associate Director of Diversity, Equity, Inclusion, and Accessibility (DEIA).
Dr. Nguyen is Director of the Asian American Research Center on Health (ARCH; www.asianarch.org), which has over 40 individual and organizational members dedicated to improving the health of Asian Americans.
Through these roles, Dr. Nguyen has addressed health disparities and health equity through research, training, and community engagement.
Dr. Nguyen served as a Commissioner on President Barack Obama's Advisory Commission on Asian Americans and Pacific Islanders from 2011 to 2014 and as the Chair of the Commission from 2014 to 2017.