Today was a bad day for e-cigarettes and flavored tobacco products generally, particularly JUUL
There has been growing public concern about the explosive growth of flavored tobacco products, particularly the explosive growth of JUUL e-cigarettes among kids.
Public health responded today on both coasts.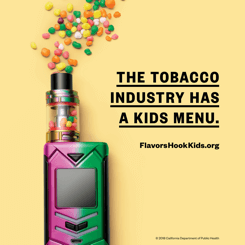 The California Department of Public Health launched a brilliant (and colorful) educational effort on the impact of flavored tobacco products on kids.  You can see  the TV ads on "the tobacco industry's kids menu" here.  At least two of the ads, Fruit Candy and Bedroom feature JUUL.  The accompanying web page https://www.flavorshookkids.org/ gives loads of great information and shows the print ads.
I never cease to be amazed at how talented CDPH and their ad agency Duncan Channon are at taking complicated science and tobacco industry behavior and boiling them down to compelling messages that people can understand.
Meanwhile, back on the East Coast, the FDA announced a crackdown on e-cigarette marketing directed at kids.   In what FDA characterized as "the first steps in a new effort aimed at stopping youth use of e-cigarettes," FDA wrote JUUL demanding extensive information on how the product works and how it is marketed.  
Beyond the immediate effects on making and marketing products to kids, the information these efforts turn up is likely to make it crystal clear that flavors are for kids and that marketing e-cigs as widely available consumer products for adults without pulling in kids is all but impossible.
Overall, a good day for public health.