TRANSFORMERS TURNS AN AFTERNOON AT THE MOVIES INTO A LOUD CIGAR COMMERCIAL
TRANSFORMERS  MAKES 3 BILLION TOBACCO IMPRESSIONS ON CHINA AND USA
 
In three short weeks, Transformers: Age of Extinction (PG-13) has delivered an estimated 2.4 billion tobacco impressions in China and 1.5 billion tobacco impressions in the US and Canada.
 
The Viacom movie has earned 72 percent of its box office outside the US so far, including a record $280 million in China — surpassing its $209 million domestic box office. About half the movie is set in (or above) Hong Kong SAR.
 
PRODUCT PLACEMENT IS RAMPANT
 
Also known as Transformers 4, the movie is a science-fiction fantasy vehicle for "Autobot" dolls marketed by Hasbro to young boys. The fourth release in the Transformers film franchise includes product placement for Bud Light, Chevrolet and Chinese brands.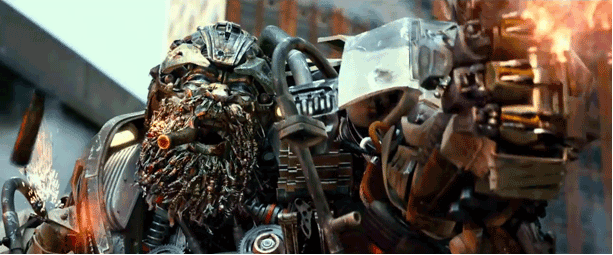 The movie also shows a bearded, veteran combat robot ("Hound") gnawing on a glowing-red cigar 50+ times. This computer-animated character has been through several incarnations as a toy or cartoon over the past 30 years. In 2014, directed by Michael Bay, "Hound" smokes for the first time.
 
PARAMOUNT'S TOBACCO POLICY FAILS
 
Viacom ("Rango") published a corporate policy on smoking in its youth-rated films effective January 1, 2013 — three weeks after Transformers 4 began pre-production but eighteen months before the movie was released. Paramount's policy says, in part:
 
"Paramount discourages the depiction of smoking or tobacco in youth-rated films. Paramount will communicate this policy to its filmmakers, but also will take into account the creative vision of the filmmakers recognizing that there may be situations where a filmmaker believes that the depiction of smoking or tobacco is important to a film."
 
IN CHINA, THE FIRST CHALLENGE TO A US FILM WITH SMOKING
 
When Transformers 4 premiered in China, public health organizations there that are working to strengthen China's existing policy against "excess" on-screen smoking petitioned the central government to remove smoking imagery from Transformers 4 or else post a prominent health warning on screen. (China does not currently use age-based film ratings.) 
 
This is the first publicized instance of a large-budget US movie being challenged in China because of its tobacco content. China's movie market is expanding rapidly and major US studios are sensitive to market conditions there.
 
REALLY WANT TO RESCUE THE HUMAN RACE FROM EXTINCTION? FIRST, DON'T PUSH SMOKING AT KIDS.
 
In the US, craven implementation of weak individual studio policies on smoking has only strengthened calls across the US for tobacco to be rated "R." Exceptions would be limited to (1) depictions of actual historical people who actually smoked, as in biographical dramas or documentaries, and (2) portrayals of tobacco's real health consequences. 
 
A cigar-chomping robot character promoted as a toy for six-year-olds does not meet either test.