Addiction continues to be the go-to journal for e-cigarette promotion, this time attacking the ecig gateway effect
Last August (2017), the journal addiction published a paper by Jean François  Etter, "Gateway effects and electronic cigarettes,"  that tried to dismiss the very strong and consistent evidence that adolescents who initiate tobacco product use with e-cigarettes are more likely to go on to smoke cigarettes, the so-called "gateway effect."
 
Much like past tobacco industry efforts to use the Bradford Hill criterial for causal inference to dismiss the evidence linking smoking with lung cancer, Etter came up with something analogous to the industry's old "constitutional hypothesis" that argued that smokers got lung cancer because there was some genetic factor that both increased the risk of lung cancer can made it more likely that someone would start smoking.  Figure 1 in his paper sums up his position: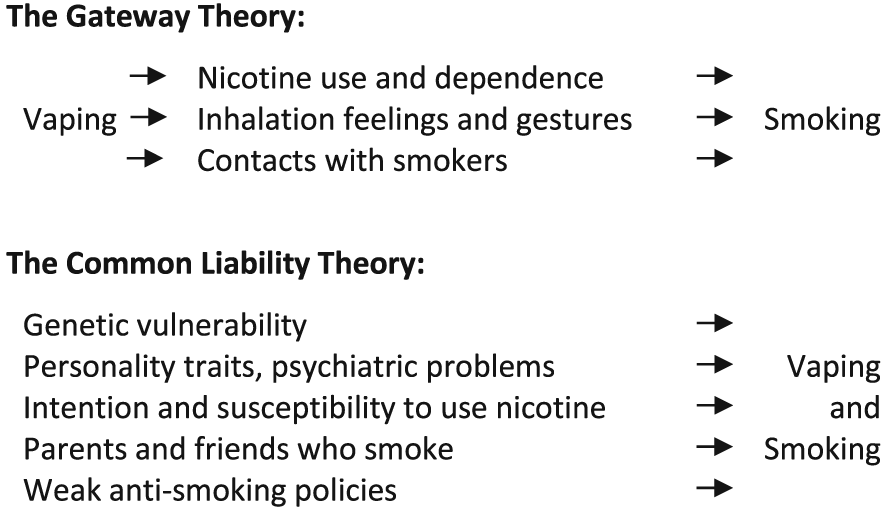 Following standard academic procedure, Simon Chapman and David Bareham submitted a letter to Addiction pointing out all the problems with Etter's arguments and summarizing, in detail, the evidence that the available evidence does support the gateway hypothesis as well as the detailed evidence that his common liability theory is silly.
 
One point that Chapman and Bareham did not include was the consistent evidence that around a third of kids who start tobacco product use with e-cigarettes have risk profiles that make them unlikely to start with cigarettes.  We demonstrated this using national data as well as the fact that the effect of all these low-risk kids starting with e-cigarettes had increased the number of kids using nicotine above those using cigarettes.  (There are also regional studies showing the same thing; see citations in our paper for the references.)
 
Addiction rejected Chapman and Bareham's letter as too long and, instead offered Chapman and Bareham  the opportunity to condense their response to 500 words, which would presumably be published with a response from Etter.  While this is certainly one option, if the editors of Addiction were going to be evenhanded they could also have invited Chapman and Bareham to turn their letter into a paper.
 
Chapman posted the response to Etter on the University of Sydney eScholarship site; it is worth reading and is available here.