e-cigarette use among kids skyrocketing in Utah; levels much higher than among adults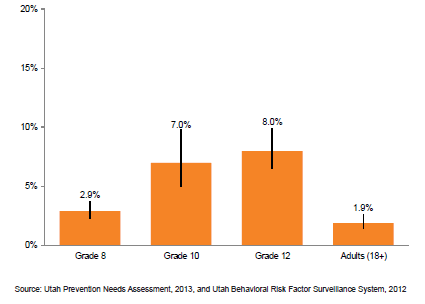 The Utah State Department of Health just published the results of their state survey on tobacco product use, which showed skyrocketing e-cigarette use among kids, reaching much higher levels than adults.  Here are their conclusions:
The percentage of Utah students in • grades 8, 10, and 12 who reported that they had tried electronic cigarettes more than doubled from 2011 to 2013.
Despite having no legal access to e-• cigarettes, Utah youth are three times more likely to report current use than adults.
Nearly one third of Utah youth who • used e-cigarettes in the past 30 days report that they never tried conventional cigarettes.
Due to candy-like flavors, aggressive • marketing, and lack of data regarding safety, monitoring the increasing use of e-cigarettes among youth is a public health priority.
The full report is available here.