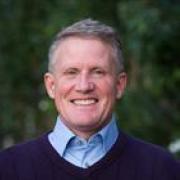 Jeremiah Mock, MSc, PhD
Institute for Health & Aging
Dr. Mock conducts collaborative action research examining how people's cultural context shapes their patterns of tobacco/nicotine use. As a health anthropologist, for over two decades he has focused on examining how and why people's lived experience of tobacco use and secondhand smoke exposure is deeply rooted in culture. His research explores how cultural and political-economic change can influence tobacco use within a cultural group. He is now working on the tobacco/nicotine endgame. His work has recently expanded into examining the cultural phenomena of young people's use of e-cigarettes, heated tobacco product (e.g., IQOS), and cannabis products.
Currently, Dr. Mock is principal investigator of a four-year study in California and the Pacific Rim focused on generating evidence to support denormalization of smoking and vaping in the great outdoors. Through the analysis of tobacco industry documents and tobacco advertising, Dr. Mock and his collaborators are identifying strategies that tobacco companies have used to propagate use of their products in outdoor settings. At parks and beaches throughout California, Japan and Thailand, Dr. Mock and his team are conducting interviews, making observations and collecting discarded waste from the use of combustible tobacco, e-cigarettes, heated tobacco products and cannabis. The goal of this study is to document the environmental impacts and nuisance of smoking and vaping in outdoor recreational areas, marine environments and wilderness habitats.
He is also principal investigator on a participatory pilot study on further documenting e-cigarette waste contamination at high schools and heated tobacco product waste at parks and recreational areas in Japan and California. In this study, his colleagues are conducting ecotoxicological analyses of collected items.
Recently, Dr. Mock led the first-of-its-kind garbology study on how teen "juuling" and use of cigarettes, cigarillos, and cannabis are polluting high school environments. His publications include the first study to document high levels of secondhand smoke exposure at popular beaches, and one of the first studies showing that beaches are heavily polluted from tobacco waste. He has also published research on the burden of secondhand smoke exposure on the respiratory health of Thai children, tobacco company interference in Thailand, waterpipe use in Syria, and smoking patterns among Southeast Asian refugee and immigrant communities in the U.S.
Dr. Mock teaches courses on health promotion planning and evaluation, public health research methods, and intercultural communication. He has conducted trainings on health anthropology and evaluation research for the Ministries of Public Health in Thailand, Cambodia and Laos, with Osaka Prefecture Department of Public Health, and at the WHO Kobe Health Development Research Center.