Best study on e-cigs for cessation so far shows they don't help and likely hurt
Sara Borderud and colleagues from Memorial Sloan Kettering Cancer Center just published an exceptionally well-done longitudinal study, "Electronic Cigarette Use Among Patients with Cancer,' on how use of e-cigarettes affects success in people trying to quit smoking as part of an organized smoking cessation program.  It showed that, at best, the e-cigarette users did no better in quitting smoking and likely did a lot worse than smokers trying to quit who did not use e-cigarettes.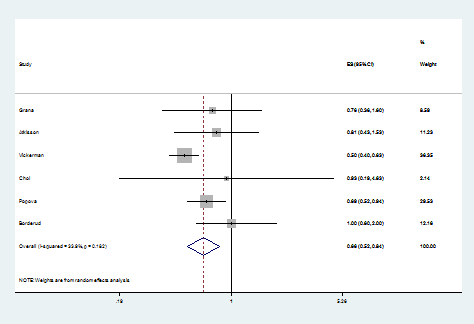 They assessed e-cigarette use among patients with cancer who had joined an evidence-based smoking cessation program at Sloan Kettering.  The followed the patients for 6 to 12 months and assessed quitting success among people using e-cigarettes and those not using them.
 
In addition to being a prospective longtudinal study, other strengths include the fact that the investigators controlled for a range of demographic variables, the type of cancer the smokers had, and, most important, how addicted to nicotine they were (a common complaint about other studies from e-cigarette advocates).
 
The found that the e-cigarette users were more addicted on a variety of scales, but even after controlling for that, there was no difference in quitting  at followup between people who did and did not use e-cigarettes. 
 
Following standard procedure in doing such studies, the authors also did an intention to treat analysis in which the people lost to followup were treated as continuing smokers.  This is likely the case because the e-cigarette users much more likely to drop out of the study [66% vs. 32% for nonusers) and reported having a harder time abstaning from smoking in smokefree environments than smokers who did not use e-cigarettes.)  When the analysis was done this way smokers who used e-cigarettes were half as likely to quit smoking as smokers who did not use e-cigarettes.  (The authors present them as twice as likely to still be smoking, which is the same thing.)
 
This result is consistent with the 5 other population-based studies in the meta-analysis we published in Circulation earlier this year, which found e-cigarette users were 39% less likely to quit smoking than smokers who did not use e-cigarettes.  Adding this new study in the meta-analysis changes the numbers a bit, to a reduction in quitting of 34% if e-cigs don't affect quitting (top figure) and to a 42% drop based on the intention to treat analysis (bottom figure).  (For statistics nerds, all 6 studies are still homogenous.)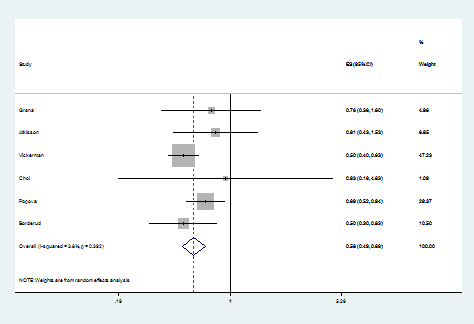 An experimental study by Andrea King and colleagues published in May 2014 helps explain this finding.  They randomly exposed young adult smokers to people smoking conventional cigarettes and (separately) e-cigarettes.  Both increased the urge to smoke conventional cigarettes.
 
This is the strongest evidence to date that health care providers should not be supporting the use of e-cigarettes for quitting and to advise smokers trying to quit to avoid dual use with e-cigarettes.
 
Here is the abstract:
BACKGROUND

Given that continued smoking after a cancer diagnosis increases the risk of adverse health outcomes, patients with cancer are strongly advised to quit. Despite a current lack of evidence regarding their safety and effectiveness as a cessation tool, electronic cigarettes (E-cigarettes) are becoming increasingly popular. To guide oncologists' communication with their patients about E-cigarette use, this article provides what to the authors' knowledge is the first published clinical data regarding E-cigarette use and cessation outcomes among patients with cancer.

METHODS

A total of 1074 participants included smokers (patients with cancer) who recently enrolled in a tobacco treatment program at a comprehensive cancer center. Standard demographic, tobacco use history, and follow-up cessation outcomes were assessed.

RESULTS

A 3-fold increase in E-cigarette use was observed from 2012 to 2013 (10.6% vs 38.5%). E-cigarette users were more nicotine dependent than nonusers, had more prior quit attempts, and were more likely to be diagnosed with thoracic and head or neck cancers. Using a complete case analysis, E-cigarette users were as likely to be smoking at the time of follow-up as nonusers (odds ratio, 1.0; 95% confidence interval, 0.5-1.7). Using an intention-to-treat analysis, E-cigarette users were twice as likely to be smoking at the time of follow-up as nonusers (odds ratio, 2.0; 95% confidence interval, 1.2-3.3).

CONCLUSIONS

The high rate of E-cigarette use observed is consistent with recent articles highlighting increased E-cigarette use in the general population. The current longitudinal findings raise doubts concerning the usefulness of E-cigarettes for facilitating smoking cessation among patients with cancer. Further research is needed to evaluate the safety and efficacy of E-cigarettes as a cessation treatment for patients with cancer. Cancer 2014. © 2014 American Cancer Society.
The paper, published in Cancer, is available here.